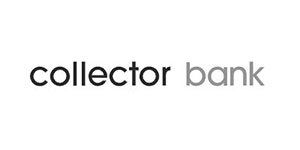 Collector is a Swedish niche bank based around digital banking mainly operating in Finland, Norway and Sweden. Their business model focuses on offering competitive financing solutions to private and corporate customers. Hoping to gain an edge over the traditional banks by using cutting edge innovative fintech solutions.
Collector was formed 1999 during the aftermath of the Swedish banking crisis which happened in the 1990s . Initially the corporation focused heavily on bad credits, nowadays Collector provides a wide variety of financial products and services which includes but are not limited to debt collection, savings accounts, business loans, payment solutions for e-commerce,
property credits and consumer loans. Collector was granted a banking license in 2015 and had their IPO on Nasdaq Nordic later that year.
Outside of the Nordic Countries already mentioned, Collector Bank also have some business presence in Austria, Denmark, Germany and the Netherlands. Over the years, Collector has finalized several expansion projects but are always looking to tap into new markets.
Collector Bank growth loan 50.000-500.000 SEK
Visit: https://www.collector.se
Collector provides business financing in Norway – Please contact the Bank
Collector provides business financing in Finland – Please contact the Bank
Collector Bank Headquarters
Gothenburg, Sweden
Tel. +46 10-161 00 00
[email protected]
Postal address:

Lilla Bommens Torg 11.
Box 11914
SE-404 39