In recent years, banks in Finland have become increasingly cautious about lending to Finnish startups, entrepreneurs and small to midsize companies. Ironically, these kinds of businesses usually are the ones most in need of financial capital. Banks rejecting loan applications could have been a real problem, had it not existed any alternative, luckily there are a ever growing number of financial companies offering primarily smaller business loans in Finland.
Compared to the other Nordic Countries Finland has got a quite large alternative financial market, dwarfing the others both in volume per capita and total volume (which is almost twice the size the second largest Nordic alternative finance sector Denmark). The crowdfunding market is regulated by the Finnish Crowdfunding Act (734/2016) since 2016, the act has helped the sector mature and is is expected to keep growing even further. At this point of time most of the peer-to-peer loans in Finland are consumer loans however some financial companies like Fellow Finance also promote business loans.
---
We list and compare
6
different business loan companies in Finland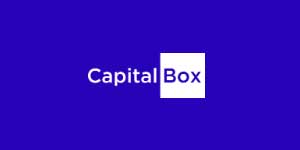 | | |
| --- | --- |
| Loan Firm | Capitalbox Yrityslaina |
| Company | Ferratum Finland Oy |
| Organization number | Y-tunnus 1950970-4 |
| Loan amount | 2000 - 250.000 €. |
| Repayment time | 6-24 months. |
| Payout to account | Inside 48 hours. |
| Rates | Average monthly interest rate 2.9 percent *The interest rate is set individually. |
| Setup fee | 2.5 percent of total loan amount. |
Estimate average monthly cost and total payment using Capitalbox loan calculator. Adjust amount and repayment period by moving each slider horizontally.
More about Capitalbox
---
All business loans featured on this page are regulated by the finnish Financial Supervisory Authority,
Finanssivalvonta (FIN-FSA)
.
Common business loan requirements
Hold a Finnish business bank account.
the Company must be registered with the Finnish Patent and Registration Office/Finnish Trade Register (Patentti- ja rekisterihallitus (PRH)) and hold a valid business registration number (y-tunnus).
the Business owner usually needs to reside in Finland.
Most corporate loans require personal bail.
Other requirements you may or may not need to meet
Lenders typically will examine some or all of the following criteria:
Credit score.
Age of your business.
Annual revenue.
Personal debt-to-credit ratio.
Personal income.
Potential collateral.
Motivation/Intention explaining motivation for loan.