the World Bank has ranked Denmark as Europe's best country for business for 7 years in a row, that tells you something about the great entrepreneurial environment that this Nordic country managed to create. Denmark is ranked top 3 in the World Bank's "Ease of Doing Business Index" and that places the country in front of every other Nordic country. However, everything is not all peaches and cream, getting hold of business loans or other credits are considerably harder for Danish entrepreneurs and companies compared to many of the other top ranked countries in the index. Still, it's much easier to get hold of a business credit in Denmark compared to either of their Scandinavian neighbors; Norway or Sweden.
Obtaining a bank loan for your business can be quite a hassle, Danish banks normally are not willing to lend money to new firms or startup projects as they consider them to be high risk with low reward. If you still decide to apply for a bank loan, you should make sure to come well-prepared and be able to submit a great business plan.
There are other alternatives, should your application not be successful. A fair amount of smaller loan companies in Denmark offers a variety of business financing possibilities. Independent loan companies with business offers are mainly focusing on small to midsize companies in need of capital .
Another ever growing market is the one of peer-to-peer loans. In Denmark there are a couple of platforms for business finance through crowdfunding, of which the most prominent are Flex funding and Lendino.
---
We list and compare
4
different business loan companies in Denmark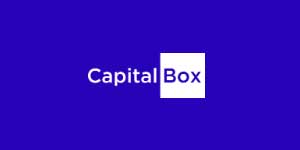 | | |
| --- | --- |
| Loan Firm | Capitalbox DK |
| Company | Ferratum Sweden AB |
| Organization number | 556695-9655 |
| Loan amount | 15.000-1.500.000 DDK. |
| Repayment time | 6-24 months. |
| Payout to account | Inside 48 hours. |
| Rates | Average monthly interest rate 2.9 percent *The interest rate is set individually. |
| Setup fee | 2.95 percent of total loan amount. |
Estimate average monthly cost and total payment using Capitalbox loan calculator. Adjust amount and repayment period by moving each slider horizontally.
More about Capitalbox
---
All business loans featured on this page are regulated by the Danish Financial Supervisory Authority,
Finanstilsynet (DFSA)
.
Common business loan requirements
Hold a Danish business bank account.
the Company must be registered with the Danish Business Authority (Erhvervsstyrelsen (ERST)) and hold a valid business registration number (CVR-number).
It's possible for nordic and other EU/EEA citizens to start their own business in Denmark, however most loan companies require the business owner to reside in Denmark if they are to lend them money.
Most corporate loans require personal bail.
Other requirements you may or may not need to meet
Lenders typically will examine some or all of the following criteria:
Credit score.
Age of your business.
Annual revenue.
Personal debt-to-credit ratio.
Personal income.
Potential collateral.
Motivation/Intention explaining motivation for loan.